Admit it, you've dreamed about owning horses since you were a kid and buying a horse farm in VA! Or maybe you haven't, but you've had to explain to your son or daughter why Santa can't fit a pony in his sleigh. Or maybe you've come into more land than you know what to do with, and you want to start your very own horse farm. Regardless, we're here to help! Central Virginia is a great place for horse farms; the sprawling pastures and rolling uplands are well-suited to the rigors of horse-rearing. And rigors there will be; it's not the easiest thing to get into, but with a little hard work and careful planning, it can be a very fulfilling endeavor! So let's get started!
Land
It may sound obvious, but it's worth saying that land is one of the first and most important components of owning a horse farm. Indeed, the amount of land one needs to operate and maintain a horse farm is often underestimated. The Virginia Cooperative Extension recommends at least 2-3 acres of grazing land per horse, and that's with good, efficient pasture management.
What exactly are you buying and what are you getting for your money? Obviously, the land you're buying must be zoned for agricultural use. Are you looking into buying a pre-existing horse farm? If the land you're considering was already used for horse farming, you can assume that zoning is in order, but the previous owners could have been grandfathered in, so always check.
And what about the existing infrastructure? Is there a barn? Are the horse-farming resources in good working condition? If you're building your own infrastructure (like arena, stables, etc.) determine which way the water flows and avoid building in wet areas or areas where water settles. It would be wise to walk around the property after a heavy rain and identify the places where water collects. Remember not to get too attached to one plot. Sometimes it's easier to start fresh than to renovate and repair.
Barn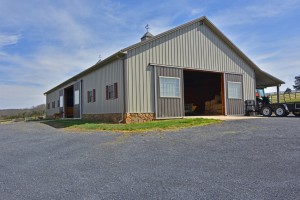 The barn is the central nervous system of any horse farm, so this is definitely an area in which you must invest money and careful consideration. If you're building your own barn, avoid low-lying areas (like the bottom of a hill), because runoff from rain and snow can weaken your foundation. It helps to use the center of the barn to store supplies like food, hay, and bedding. Storing hay in the center where there are multiple points of entry helps with rotation.
Breathe. See how good that felt? Ventilation is one of, if not the most important consideration when it comes to the structure of a barn. You need fresh airflow, especially with horses urinating and defecating inside the barn, not to mention the fact that the bedding gets pretty dusty. It helps to have multiple entrances to the barn, at least one on either end.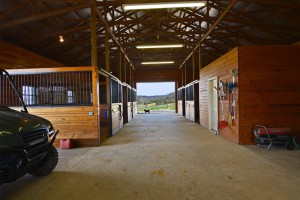 The commonly-accepted size for a horse stall is 12 square feet; big enough for a horse to lay down, stand, and turn around comfortably, but small enough to clean and maintain. Rubber mats are a good call for the floor of the barns. They make cleanup easier, and they're more comfortable for the horses themselves. If you're going to install these, make sure you do it before the horses move in, so that the ground is still relatively even. Consider getting stall doors that open up on the top halves, or just an open stall with a stall guard. Wood or mesh work great.
It's great to have automatic waterers but they also make it difficult to determine how much water your horse is drinking. Automatic waterers shave time off of your labor expenditure and you will guarantee that your horses have access to a consistent supply of fresh drinking water. If you opt for manual waterers/hydrants, make sure you take measures to prevent them from f reezingin the colder months. It's nice to be able to access a feed bucket with ease, so consider a swing-out parcel with a bucket attached. Many people line the bottom of their feed buckets with metal, to prevent rodents.
So there you have some tips. Everyone has a different vision for her or his farm, and hopefully this little guide has helped you flesh out yours. There are few places better-suited to equestrian pursuits and horse farming than central Virginia! Contact us to have an experienced horse farm agent help you locate the horse farm or land that is best suited for your needs.